Bamboozle I CodeGuard Website Backup
Protect your website with daily automated backups
Get protection against viruses, hackers and even your own code accidentally breaking your site.
CodeGuard is a fully automated website backup service that gives you complete protection against data loss and malware.
Every 0.65 seconds,
a new web page is infected with malware.
CodeGuard provides an independent offsite backup solution for your website along with daily monitoring to ensure your website is online and malware free.
Protect your site from data loss and corruption, as well as against threats from viruses, hackers and malware with Daily Automated Website Backups from CodeGuard.
With CodeGuard Website Backup, your website is backed up daily and if disaster strikes, you can restore your site to a previous point in time at the click of a button.
No matter the size of your business or your website, CodeGuard guarantees the same level of detail and quality. Our easy set up and monitoring is accessible for all technical skill levels.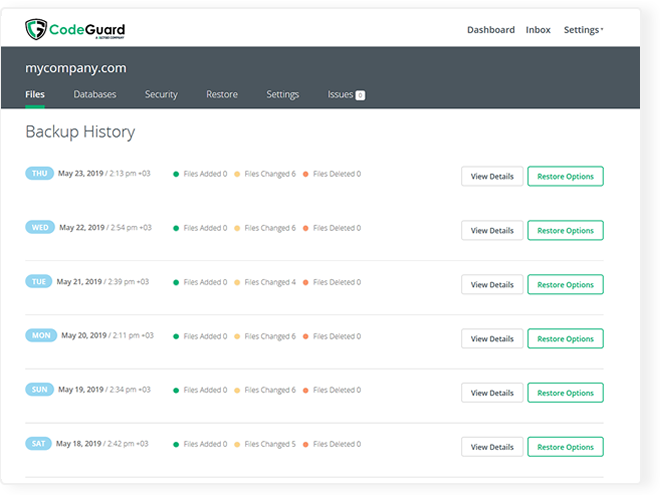 It's all about choice
Bamboozle Virtual machines give you the largest choice of templates to deploy with your Virtual Server. All templates are regularly updated to include the latest patches and fixes to ensure your project runs perfectly safe, secure and high speed.

UBUNTU
Ubuntu 16.04 LTS
Ubuntu 18.04 LTS
Ubuntu 20.04 LTS

DEBIAN
Debian 8
Debian 9
Debian 10


SUSE
Suse Enterprise Server
openSuse


WINDOWS
Windows Server 2012
Windows Server 2016
Also available: freeBSD, Oracle Enterprise Linux, Fedora, ArcLinux, Gentoo, and many more.
Custom Templates available on request.
No Nonsense Pricing
Our VPS offer affordable, fixed pricing to get you going.
Even better – on annual plans give you 2 months free of charge.
Starter
1 vCPU
512MB RAM
20GB Storage
1 IPv4
5mbps Traffic
Automated Backup
Firewall
Basic
1 vCPU
1GB RAM
30GB Storage
1 IPv4
5mbps Traffic
Automated Backup
Firewall
Economy
2 vCPU
2GB RAM
40GB Storage
1 IPv4
5mbps Traffic
Automated Backup
Firewall
Economy+
2 vCPU
4GB RAM
60GB Storage
1 IPv4
5mbps Traffic
Automated Backup
Firewall
Premium
4 vCPU
4GB RAM
80GB Storage
1 IPv4
5mbps Traffic
Automated Backup
Firewall
Premium+
4 vCPU
8GB RAM
100GB Storage
1 IPv4
5mbps Traffic
Automated Backup
Firewall
Ultimate
8 vCPU
8GB RAM
120GB Storage
1 IPv4
5mbps Traffic
Automated Backup
Firewall