Windows Web Hosting
Web Hosting on Plesk
and Windows Server
The fastest and most secure
Windows Web Hosting in the UAE.
Looking for a secure, reliable home for your website?
Bamboozle Windows Web Hosting runs on Plesk Obsidian, the leading Web Hosting Panel for Windows and includes over 100 Apps to get you started right away. Backed by our 24/7 support, your website has found a great home
Plesk for Windows Hosting
Bamboozle Windows Web Hosting UAE runs on Plesk – the leading Panel for Windows. And we add a lot of free extras for your website and apps.
Plesk
Access all the hosting features and settings you need with the leading Windows industry-standard control panel.
Windows Server with Advanced Security
Keep your site online with truly balanced CPU, RAM and Disk IO limits
Advanced WAF and Anti Virus
Protect your content 24/7.
Free applications
Install over 100 applications on your website with just a click.
Bamboozle Windows Web Hosting – the better choice!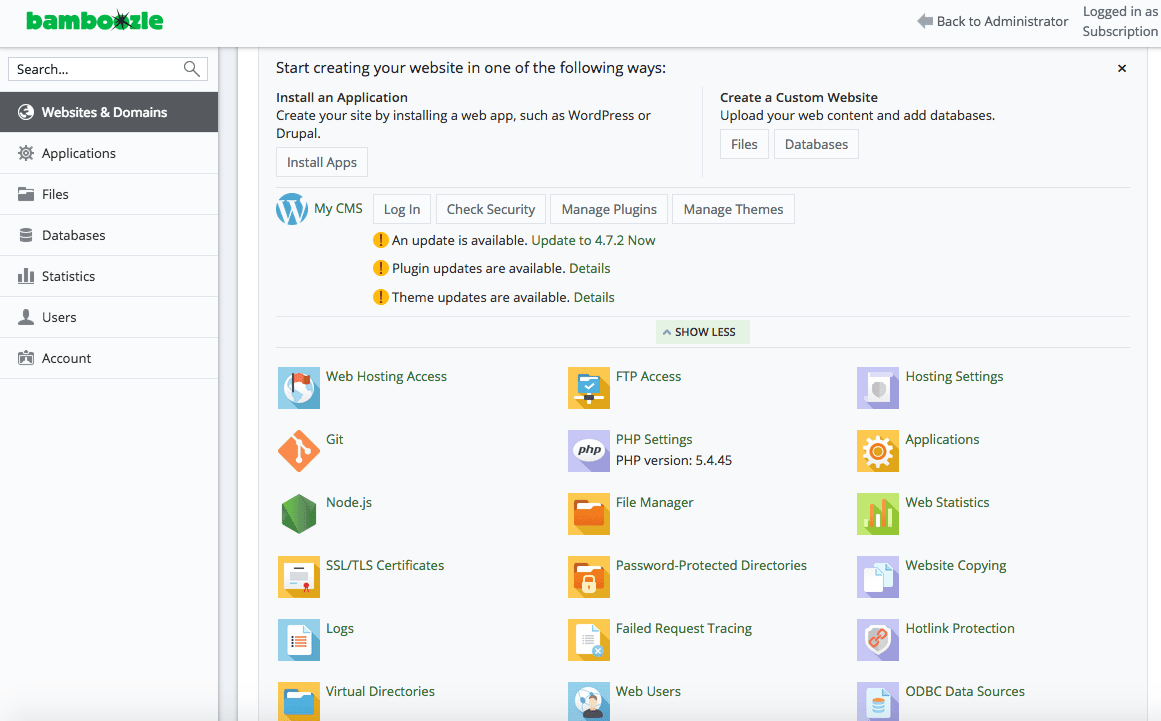 Security included
We keep your website safe. This includes regular backups, free and easy to use SSL certificates and active protection against hackers
Free SSL Certificate
We believe every website should be be encrypted and secure. This is why we support one click Let's Encrypt SSL certificates for all our Products. Don't go for less. Secure your website.
Your SSL is automatically installed and renewed.
Automated Backups
Ever spent hours looking for a lost or corrupted file or folder? It can bring you to tears. We make sure it never happens again. Site Backup & Restore saves all your website files to the cloud once a day.
So the next time you lose something for any reason, you can restore it with a single click. And get right back to work.
Anti-Virus and Hacking Protection
Our Firewall protects your websites from malicious attacks and all files are scanned regularly for Viruses or other suspicious files. We also take care of potential hacking attempts against your accounts.
All inclusive
The most liked Apps available are included by default and can be installed with just a few clicks.
One-Click Applications
All of our web hosting packages come with a range of great plugins to enhance your website. Choose from the most popular web hosting applications including TYPO3, Joomla, Drupal, Magentoand Prestashop.And 100 more. All plugins are free and can be installed in just a few clicks.
All Plugins include automated and manual backups to ensure your apps are secured and available all the time.
The WordPress plugin is also available to install, but for a more complete solution we recommend Bamboozle Managed WordPress.
Choose your Windows Web Hosting Package
All plans included the latest release of Plesk, unlimited Sub Domains, Bandwidth and FTP accounts. All plans include free SSLs (Lets Encrypt) and over 100 Application with One-Click Installer for your convenience.
HOSTED IN THE UAE. ANNUAL PLANS INCLUDE ONE FREE DOMAIN AND 2 MONTHS FREE OF CHARGE
Basic
1 Domain
5 GB Web Space
10 Email Accounts
Unlimited Sub/Addon Domains
5 mySQL or SQL Server Databases
Automated backup
Unmetered Bandwidth
Hosting Location: Dubai, UAE
Standard
5 Domains
5GB Web Space
25 Email Accounts
Unlimited Sub/Addon Domains
15 mySQL or SQL Server Databases
Automated backup
Unmetered Bandwidth
Hosting Location: Dubai, UAE
Premium
Unlimited Domains
50GB Web Space
50 Email Accounts
Unlimited Sub/Addon Domains
Unlimited mySQL or SQL Server Databases
Automated backup
Unmetered Bandwidth
Hosting Location: Dubai, UAE